Welcome to Germantown Trust & Savings Bank.
Since 1906, residents from our community have relied on the safety and soundness of Germantown Trust & Savings Bank for their financial needs.  For all those who bank with us, we appreciate your trust.  For those who are looking for a community bank, please allow us the opportunity to provide you the attention and banking service you deserve.
At Germantown Trust & Savings Bank, our mission is to efficiently offer advanced technology and up-to-date banking services, while retaining a personal touch to further meet your banking needs.
We're committed to bringing you the level of service you have come to know and deserve.
Thank you for visiting Germantown Trust & Savings Bank online.  Please let us know how we can further assist you.
We can be contacted at (618) 523-4202 or online. 
---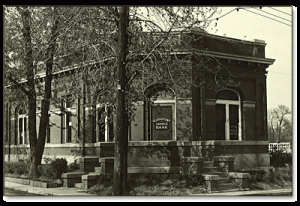 Germantown Trust & Savings Bank has proudly served Clinton County for over 115 years.  We appreciate having had the opportunity to do so and look forward to continuing the same level of exceptional service for years to come.  Originally founded to serve the needs of Germantown, the bank has grown to include four locations serving all of Clinton County.  Established as Germantown Savings Bank with beginning capital of $25,000, the bank was renamed Germantown Trust & Savings Bank in 1976 and currently holds assets in excess of $450,000,000.
The first officers of the bank were: A. B. Daab, President, and H.H. Schlarmann, Vice-President and Cashier.  Members of the Board of Directors were:  M.M. Stephens, ex-mayor of East St. Louis; E.C. Kramer, attorney for the Southern Railway Company; W.K. Kavanaugh, president of Southern Coal and Mining Company; J.A. Bauer, physician; Henry Koch, lumber merchant; A.B. Daab, vice-president of  the bank of Millstadt; H.H. Schlarmann, recorder of Clinton County.
Originally housed in the old Westerman building located just west of St. Boniface Catholic Church, a new bank building was built in 1910 at 407 Main Street, Germantown, which served the banking house for 60 years. In 1970, the bank purchased the corner lot of Main & Munster from Thomas and Shirley Lampe. At that time the present banking house was built.
As of April 17, 1963 the management team of Germantown Savings Bank consisted of Joseph Heimann, Valerian Eversgerd & James Lampe.
In 1976, Germantown Savings Bank, became Germantown Trust & Savings Bank, as it received trust powers to operate a trust department and became one of only two trust departments within Clinton County. The Breese facility was built and opened in 1988, at which time its charter was moved to that location. On July 1, 2000, Bartelso Savings Bank merged with Germantown Trust & Savings Bank, allowing GTSB to offer four locations within Clinton County.
Today, Germantown Trust & Savings Bank, with locations in Bartelso, Beckemeyer, Breese and Germantown offers complete banking and trust services to Clinton County. The current board of directors is: Dale G. Deiters, Janice L. Deiters, James R. Lampe II, Floyd Trame, and Alan Timmermann. James R. Lampe serves the bank as Director Emeritus. The directors and officers are proud of its progress and welcome the opportunity to celebrate over a century of service to Clinton County.